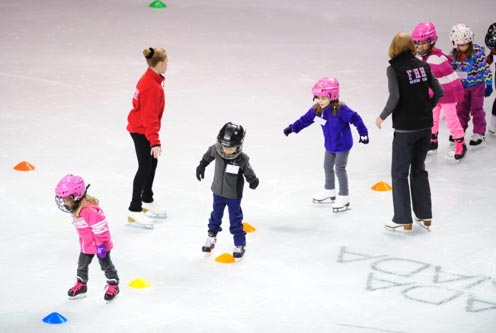 CanSkate/Pre-Canskate Information
CanSkate/Pre-Canskate is Skate Canada's learn-to-skate program for beginners. Skaters are taught in a small group by a Skate Canada Certified Coach. Each session will consist of a warm-up, group lesson, and a short fun activity/cool down.
Here are a few reminders to help things run smoothly and successfully:
• Please arrive at least 15 minutes before your session starts. Assigned dressing rooms will be posted. • Be sure to refer to the website and your email regarding theme days and other information.
• We recommend "lace-up" skates (no buckles or velcro). When buying skates, make sure they fit properly and provide good ankle support. Wear guards to protect the blades and prevent dulling while off the ice. When the skater has finished skating, wipe the blades dry with a soft cloth - this prevents the blades from rusting.
• All skaters must wear a CSA approved hockey helmet.
• Skaters should wear gloves and warm clothing that allow for freedom of movement on the ice. There are also markers that are used by the coaches to draw circuits, and we can not guarantee that the markers will wash out, so please dress your child in either dark or "not-as-loved" clothing.
• There will be some movement (skaters changing groups) within the first few sessions as we evaluate the skaters and ensure each skater is in the appropriate group.
• Report cards, ribbons, and badges will be awarded on the last day of each session. Please keep in mind that not all skaters will receive a badge every session, as it may take more than one session to achieve a badge.
• Please do not interrupt the coaches or skaters once the session has started. Parents should remain in the viewing area and not stand directly at the boards.
• For safety reasons, each child must have one parent/guardian in the building while they are on the ice.
If you have any questions, please contact the club at info@asfsconline.com or talk with one of the coaches when they are off the ice.
Thank you for your cooperation and Happy Skating!
Ardrossan Strathcona Figure Skating Club